Earlier this month, while planning our September trip to Europe, I looked at the calendar and had a minor freak-out. I realized that once we returned, the weather in BC would have started to turn – so we only had a month and a half to really see everything we wanted to see in this area. So, naturally, I went on a booking spree and filled up most of our July and August weekends with camping trips in an attempt to visit the areas we wanted to see the most (Powell River/Sunshine Coast, North Vancouver Island, Tofino/Ucluelet, etc.) before we move back to Australia in October.
Most stuff was booked, because I'm an idiot that leaves these things to the last minute, but once in a while I got lucky. This past weekend we camped at one of our good luck sites: Inland Lake Provincial Park.
On Friday evening, we grabbed burritos from our local Mexican place and ate on the beach near Seal Bay before jumping on the ferry to Powell River.
Only 20 minutes from the Powell River ferry terminal, Inland Lake Provincial Park feels a lot further away. I had no cell service, and there are no showers – just pit toilets. We set up camp just as the sun was starting to set, and took in the gorgeous sunset on the lake with a beer before heading to bed.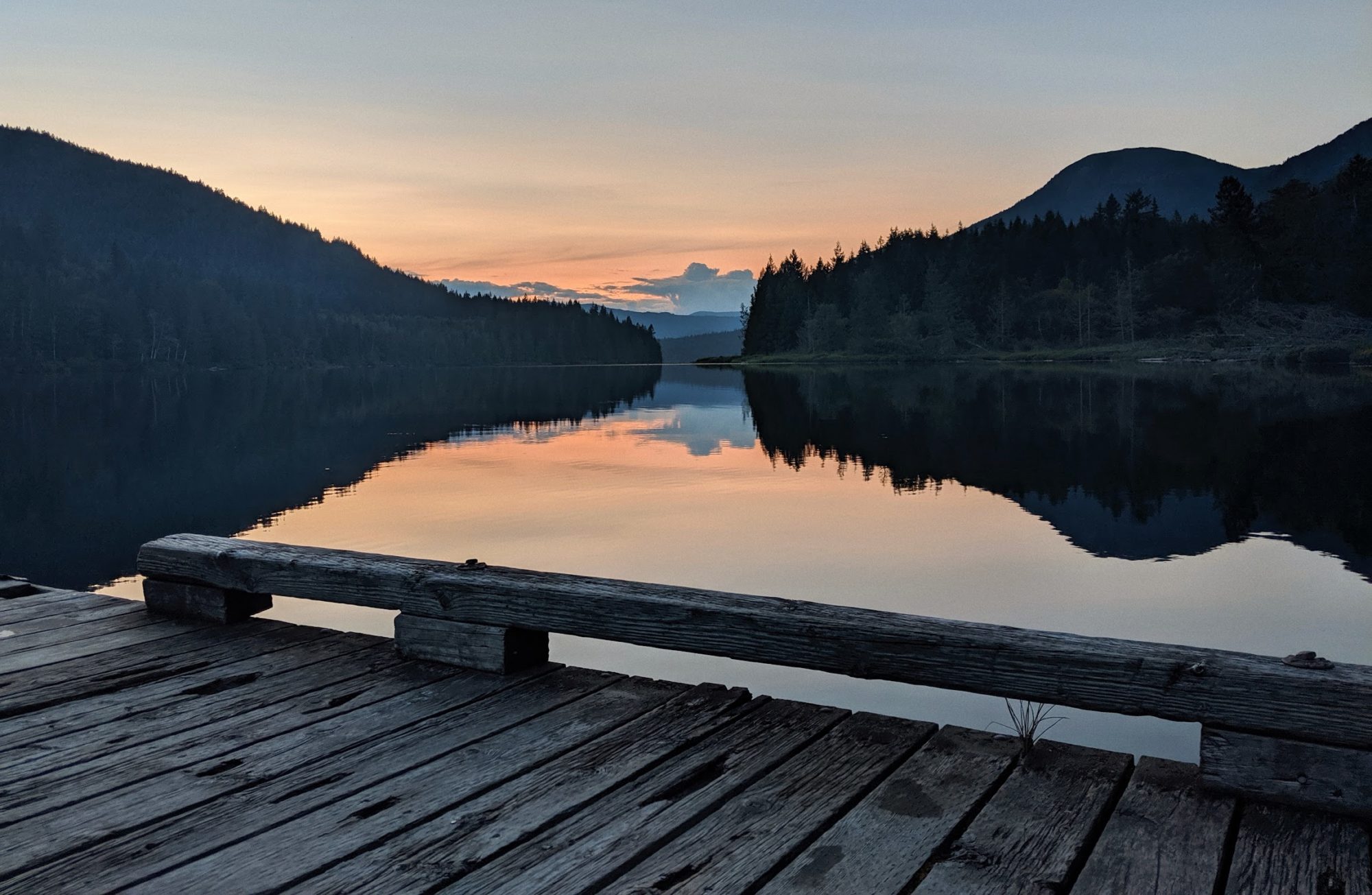 We woke on Saturday to pouring rain, which thankfully eased up nice and early, and then took our time making breakfast tacos. Jesse made corn tortillas on the spot, which – holy shit – I will never ever EVER not be unbelievably grateful for. (I didn't realize what I was missing with fresh tortillas until he started making them a couple of months ago, and now I'm ruined for pre-packaged tortillas.)
We had grand plans to hike to the top of Tin Hat Mountain, which is part of the Sunshine Coast Trail. At 180km, the trail is the longest hut-to-hut hiking trail in Canada, and views from the top of Tin Hat Mountain look unbelievable.
I'd done some research online, which suggested it was a 2–2.5 hour hike to the top, and reasonably difficult. With those parameters, it was doable, but we needed proper directions, which were only really available by buying the Sunshine Coast Trail handbook. So, after breakfast, we drove to the Powell River Tourism Center, and I asked about the handbook and about the hike to Tin Hat.
Fortunately, one of the women working there had done the hike herself, and could definitively tell me that my 2–2.5 hour estimate was way off, especially because our car didn't have the clearance to get as close as she did. We were staring down a difficult 4 hour hike to the top, which would be fine if I didn't have a niggling hip issue that I'm not supposed to aggravate. So we canned the idea, and hiked to Manzanita Bluffs at her recommendation.
From where we parked our car, it was a relatively easy 1 hour climb to the bluffs. We were rewarded with incredible views, picnic tables, and Manzanita Hut – another one of the Sunshine Coast Trail stops.
After a full hour of sitting, exploring, eating snacks, and downing a beer each, we descended quickly and drove back to camp tired and happy. We spent that evening eating, chatting, and failing to keep a fire going in a damp fire pit before crashing hard.
Upon waking on Sunday, we broke down camp before making another delicious breakfast and then setting out to hike the perimeter of Inland Lake. The trail is a delight – it's a flat and easy 13km hike, with stunning views, a million garter snakes, a bajillion frogs, and boardwalks the whole way around. (Hot tip: the whole trail is wheelchair accessible!)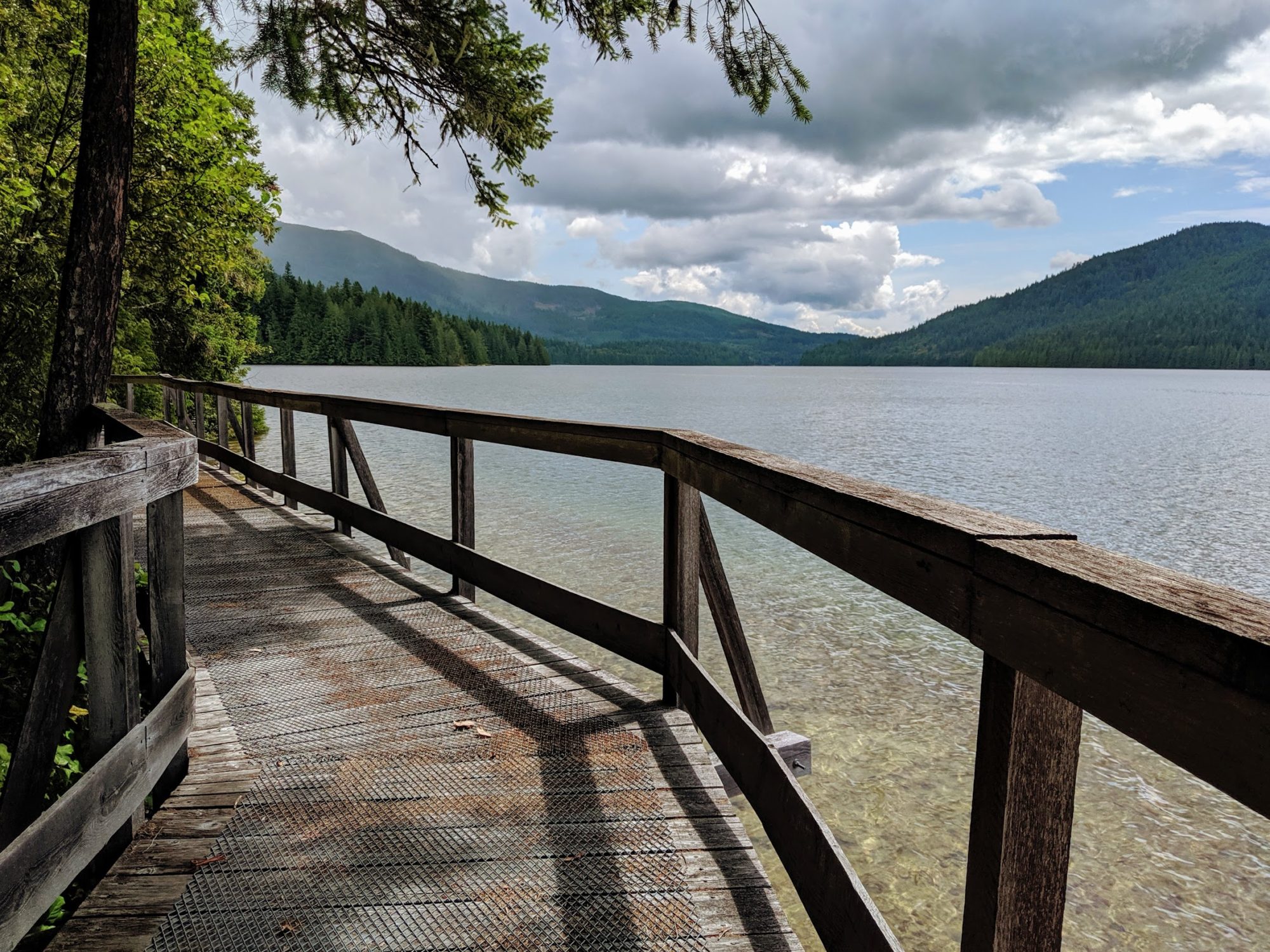 We had a ferry to catch, so we had to keep our pace up, but next time I want to spend the whole day doing this hike and stopping for lunch, drinks, swimming, etc. I want to go back so badly. I can't recommend this hike and this campground enough.
We made it back to the campground with 20 minutes to spare, so we rested our legs while eating the best-tasting nectarines I've ever had in my life. There's nothing as rewarding as fresh, in-season fruit after a long hike, and this nectarine was nothing short of magical. (Shut up about the nectarine, Erica. No one cares.)
Exhausted, filthy, and happy, we made it to the ferry in time and were home by 7pm. After having one of those life-affirming, post-camping showers, I laid out all the leftover food from the camping trip and we ate like kings before crashing in our own bed.
It was a good weekend. I know this because the whole way home we kept thanking each other – over and over again, like lovesick idiots – for such a wonderful couple of days. Oh, and Sunday happened to be the first anniversary of our move to Canada. I can't think of a better way to accidentally commemorate that.
I'm full of gratitude, the dog is exhausted, and I can't wait to do more of this over the coming month and a bit. I've never felt more blessed – to be here, now, doing these things, with someone I love more than I thought possible.